Today Placecast announced the release of our second wave of research conducted by Harris Interactive that dives deeper into consumer receptivity to opt-in mobile marketing and the potential impact for retailers. Overall, consumer receptivity to opt-in mobile marketing is growing, as is its ability to increase intent to visit stores. One-third of Americans who currently have signed up for mobile marketing alerts indicate that such services impact their decision to go into stores and 27% report that mobile programs have impacted their decision to buy products in physical retail locations.
(Please click here to request more information covered in this study).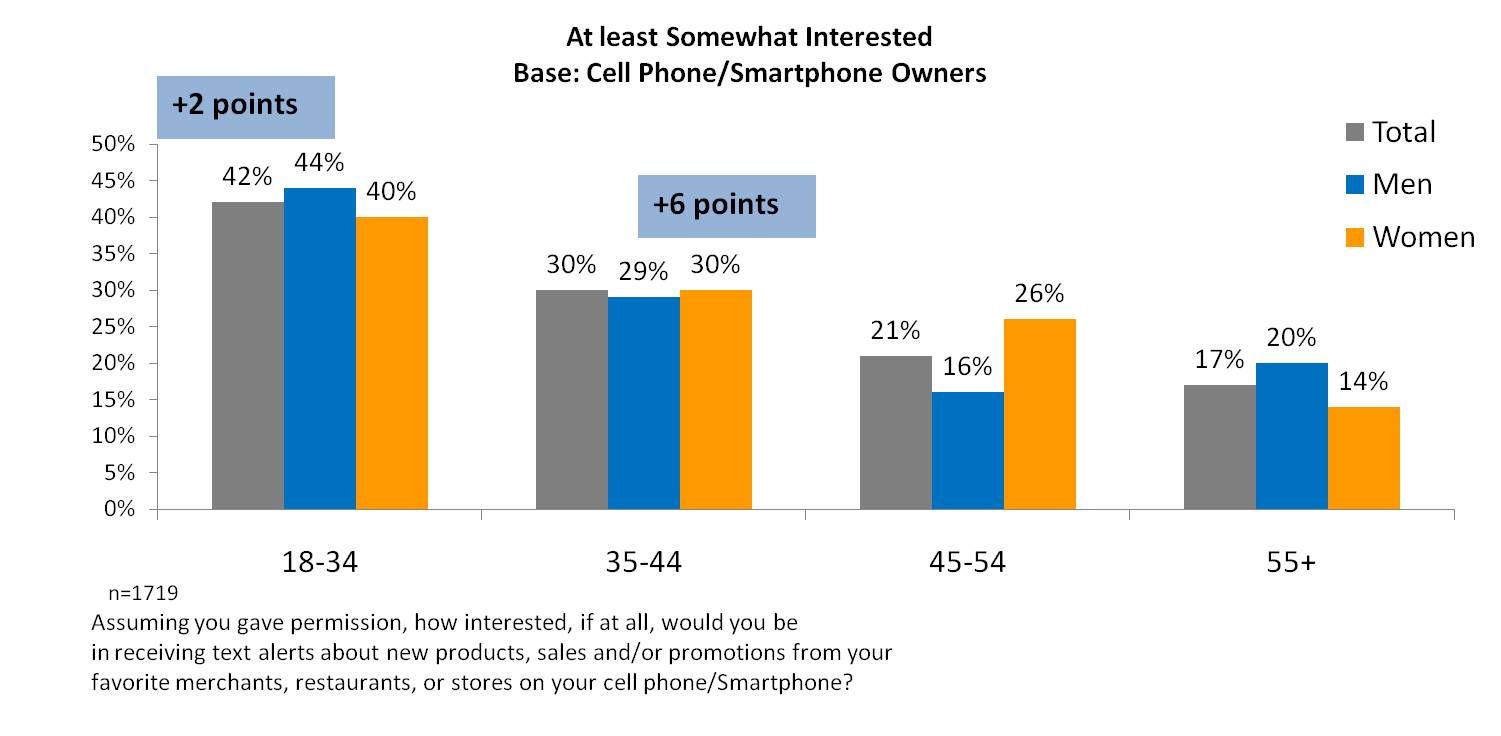 During the summer of 2009, we conducted the first survey on location-based mobile marketing and advertising, which forms the baseline for this research. Since that first survey, we have seen that overall consumer interest in such programs increased with 'somewhat interested' consumers growing by 2 percent to 28% of all cell phone owners.  As in the first survey, interest is most pronounced among the youngest cell phone owners: 42% of those ages 18–34 are at least somewhat interested. Interest grew 6 points to 40% among women ages 18–34 from the survey conducted in 2009. Interest levels between men and women are now about equal overall.

Consumers vote with their stomachs
Groceries (68%), national restaurant chains (64%), and fast-food items (50%) took three of the top four most popular segments for those who are at least somewhat receptive to overall opt-in mobile marketing, with a host of other categories also seeing strong interest.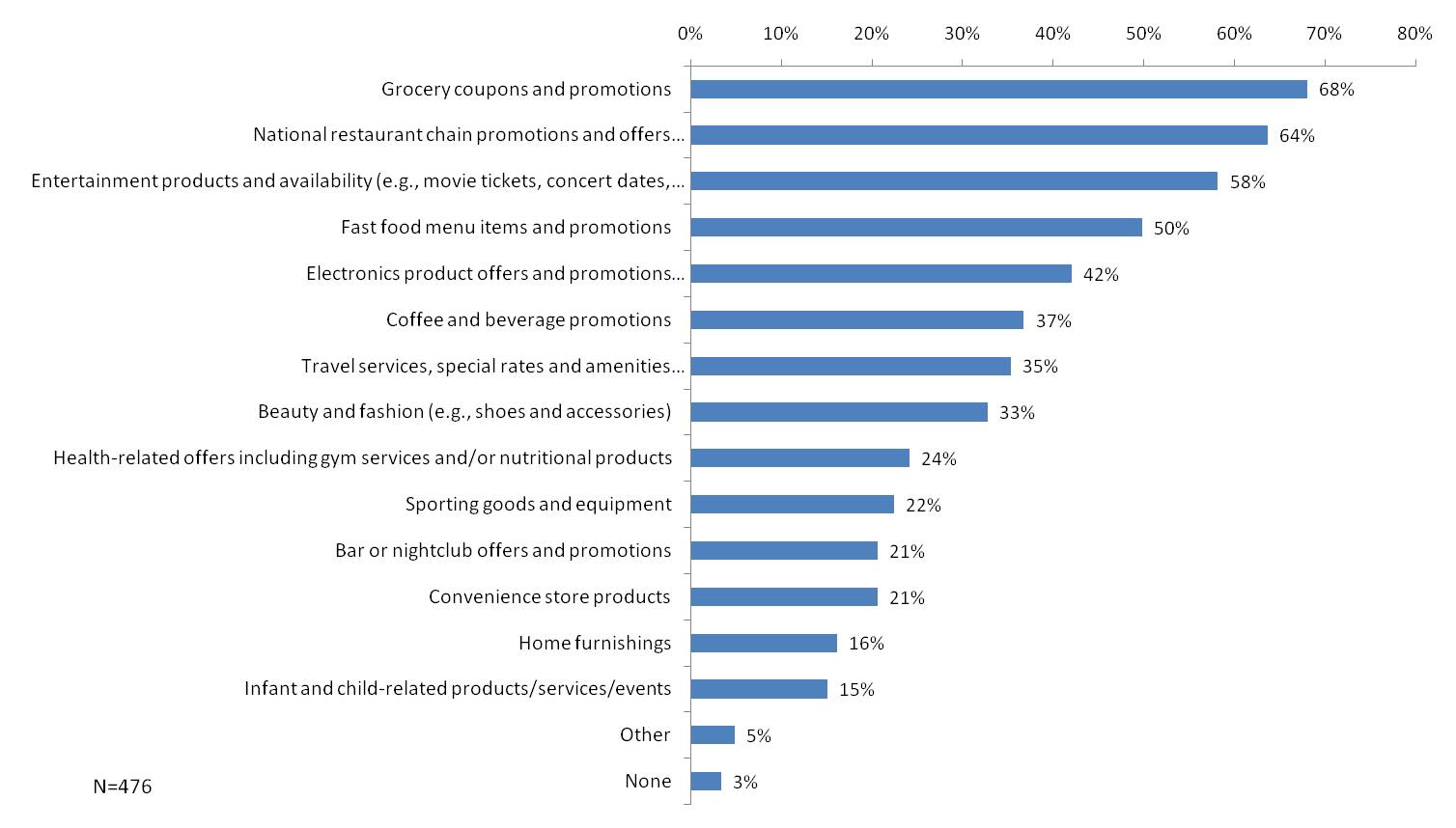 Women skewed higher than men when it came to interest in offers/promotions for groceries and apparel, while men skewed higher in interest for electronics and sporting goods products: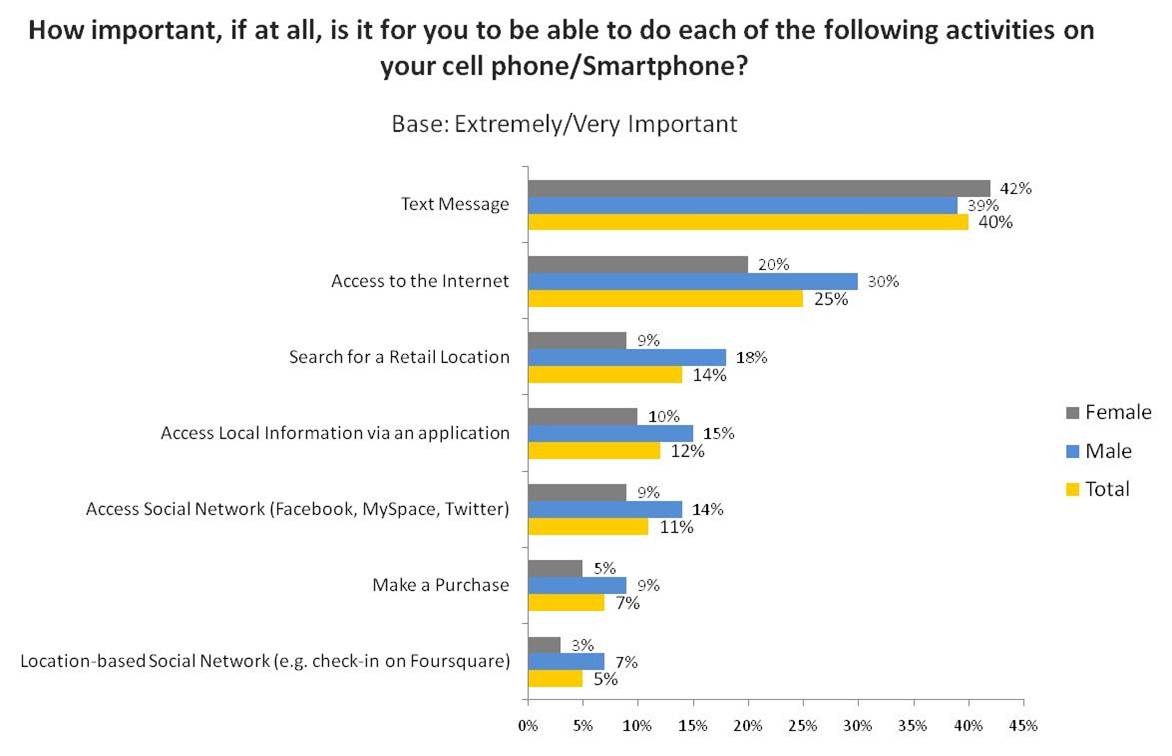 Texting significantly more valued than app-based services
One of the most interesting data points in this study across all cell phone owners is the importance of texting: it is still an overwhelmingly popular activity on mobile vs. other activities. An average of 40% of all cell phone owners say that texting is "extremely" or "very important" to them. Even with the buzz of services like Foursquare and Gowalla, only 7% of men and 3% of women showed the same level of interest in these types of social networks.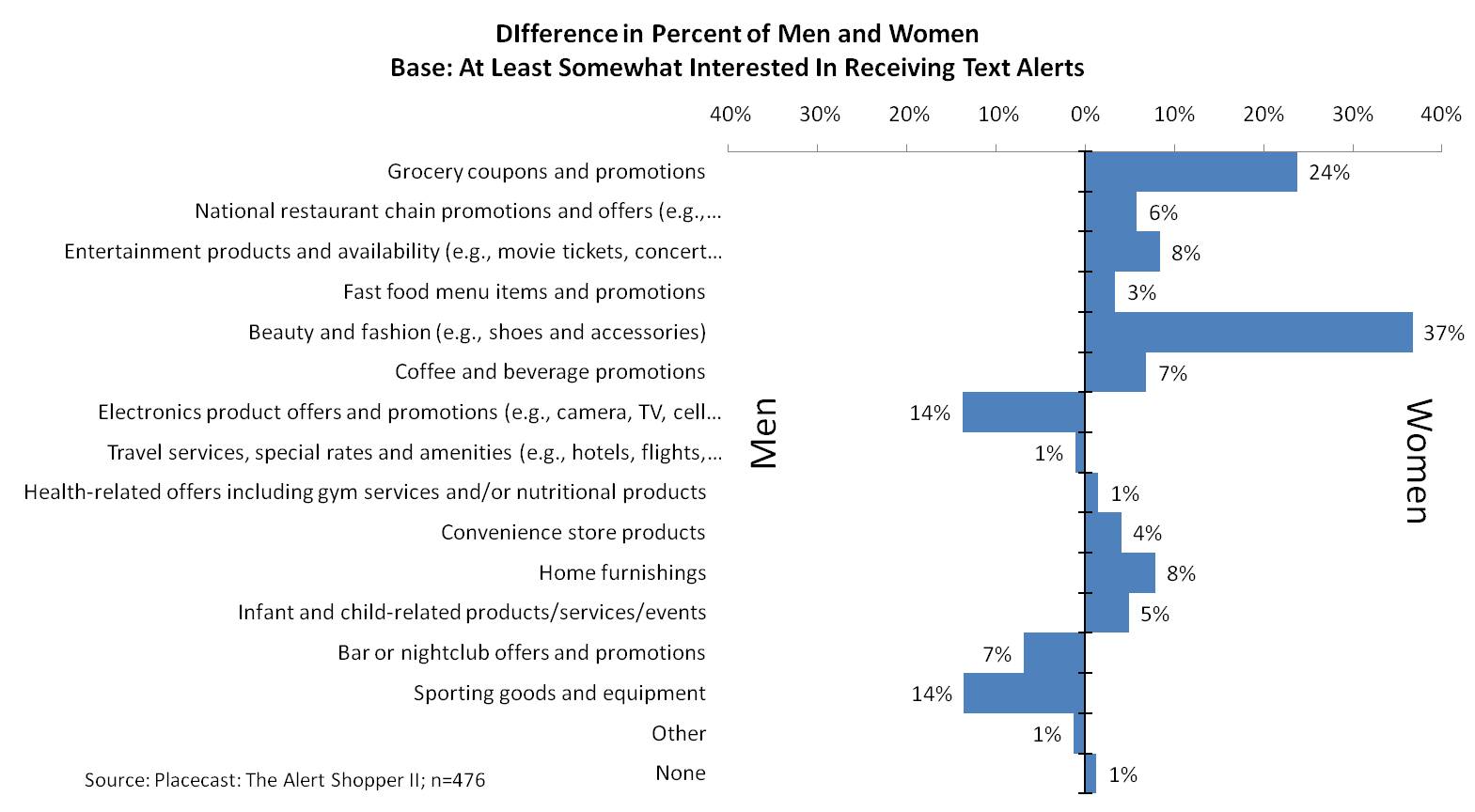 With check-in services only available on smart phones (which comprise roughly 21% of all mobile phones in the U.S.), reach for marketers through these platforms is still a question. Furthermore, both consumers and marketers see texting as similar mechanisms to email, which has made a substantial impact on purchase behavior— both online and in brick-and-mortar stores. Incorporating location—the ability to make messages even more relevant based on where users are and when they are there—is consistently seen as a valuable service by consumers and is easy for marketers to execute at scale.

Methodology
This survey was conducted online within the United States by Harris Interactive on behalf of Placecast from May 17–19, 2010 among 2,046 U.S. adults ages 18+, of whom 1,710 own a cell phone and/or a smartphone. For complete survey methodology, including weighting variables, please contact us here.
blog comments powered by

Disqus